2011
The Art Of Business
Feb 09, 2011 |Outlook Money
Entrepreneurship education can prepare you to meet real life challenges better
C
an entrepreneurship be taught? Peter Drucker, the father of management, believed it can be. In his book Innovation and Entre–preneurship (1986) he settled the debate, saying, "It's not magic; it's not mysterious; and it has nothing to do with genes. It's a discipline and, like any discipline, it can be learned." An entrepreneur is constantly facing new challenges. How does he make sure his product or service has a demand? How does he reach out to customers? How does he keep costs under control? How does he handle complaints? Entrepreneurship education familiarises students with proven, time-tested practices on ways to handle such situations. It is like learning from other people's mistakes.
Knowledge and skills. Two sides of the same coin, the former would refer to "principles and theories of underlying key concepts" as M. Ramki Murugan, coordinator, Entrepreneurship Development Program, Xavier Institute of Management and Entrepreneurship (XIME), puts it and the latter to the ability to execute such knowledge. Thus, knowing what goes into a business plan is knowledge, while the ability to draft one for one's business would constitute a skill. Other aspects of business—financial and human resource management, marketing strategies, communication and negotiation skills—are also taught through classroom sessions and exercises.
Attitude. "Should I leave the safety of my job? What if my business fails? What if I lose all the money?" are some common questions that stop many from taking the plunge. Those who actually make the cut are the ones who have the mindset to accept the risk. A good entrepreneurship course helps one to acquire that frame of mind. Often, it is a mix of real life case studies, first person accounts and simulation exercises that aim to develop the risk-taking ability in students. M. Suresh Rao, program coordinator, Centre for Entrepreneurship, S.P. Jain Institute of Management and Research (SPIJMR), describes it as 'experiential learning'. "Once you learn the different aspects of risks and how to handle them, your perception of risk changes," says Kumar Manish, student (of first year batch), Certificate Course in Entrepreneurship Management, Xavier Labour Relations Institute (XLRI) who started his venture.
Networking. Entrepreneurship students are given the platform to interact with bankers and venture capitalists who would eventually help them to raise funds. This provides them the opportunity to learn from the horse's mouth. They can also be part of entrepreneurship networks, such as National Entrepreneurship Network (NEN), which promotes entrepreneurship education through 500 member institutes throughout the country, whom they can later tap for help and support.
Practical experience. Students should submit a business plan, an integral part of the courses, based on which they are evaluated. For most students, it is a means of validating existing business ideas and getting started. Ruhan Hansuka, 25, spent eight years in hospitality business before joining the Start Your Business course at SPIJMR. "I worked on several drafts before submitting the final business plan. What started as a broad spectrum of ideas was fine-tuned as it was cross questioned by mentors and I got a clearer focus." He is about to launch a chain of quick-service restaurants. Some courses allow students to work in organisations where they learn the do's and don'ts of running a business. "We help students to get a project in an industry that interests them so that they can pick up some hands-on inputs," says Prabal K. Sen, chairperson, Entrepreneur Development Centre, XLRI.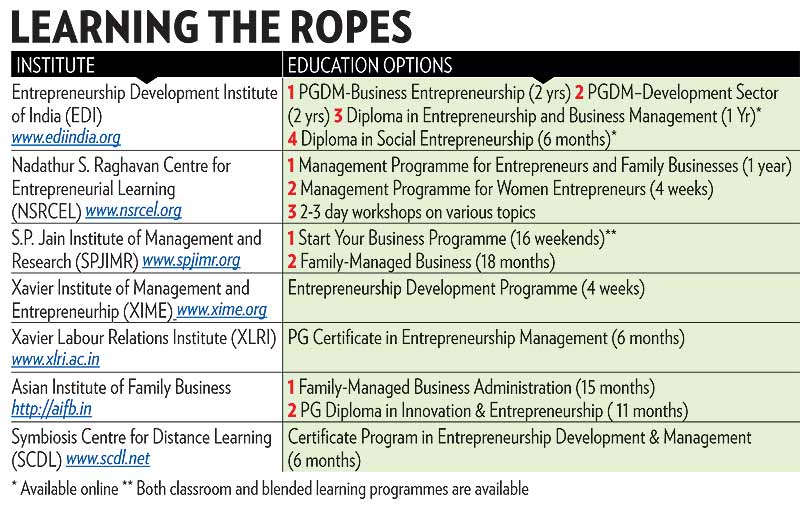 How to choose. The options for entrepreneurship education are on the rise for the past few years and most business schools have included it in their curriculum. Laura Parkin, co-founder and CEO, NEN, says, "There is no one-size-fits all programme, and you will have to pick and choose depending on the stage of life you are in." If you want a thorough grounding in basics before you make a start, consider a long-term course. Those who cannot opt for full-time courses can attend weekend classes and long-distance e-learning programmes. There are specific programmes tailored for women and those who intend to take charge of their family businesses (See Learning the Ropes).
If you want to acquire the skills that will help you learn a particular aspect of business, such as preparing a business plan or managing intellectual property rights, you can opt for subject-specific workshops. NEN conducts workshops in collaboration with the e-cells of about 500 institutes across the country. If you prefer the DIY method, access a host of learning materials and tools at http://nenonline.org
Eligibility. The desire to start off a business makes you eligible for a course. Those who are already running their ventures can also apply. Institutes, such as XLRI and NSRCEL screen applicants on the basis of one's entrepreneurial experiences and expectation from the courses, based on interviews and group discussions. Courses which teach family business will, of course, require one to come from a business family.
Costs. While long-term programmes would cost you in the region of Rs 3 lakh-4 lakh, short-term programmes are available for a few thousand rupees.
So, if you want to be your own master, you know where to get the leg-up.
---
anaghpal AT outlookindia.com
Link to the article - http://money.outlookindia.com/article.aspx?270282
<
Back